I will talk about my YSEALI ACYPL Professional Fellows Program Spring 2019 Experience in this post. I hope that this will help someone who is aiming for the program.
Check these links for more information about the program and my experiences:
ACYPL - Application
I submitted the application form on October 22nd, there were some parts of the application that require a short essay about what I am going to do during and after the program. It was months ago, I could not remember clearly what I have submitted, I only had vague ideas about it. (I asked the program officer to sent me a copy of my application after, in case someone interested to study it for their ACYPL fellowship preparation. Let me know I will send it to you) .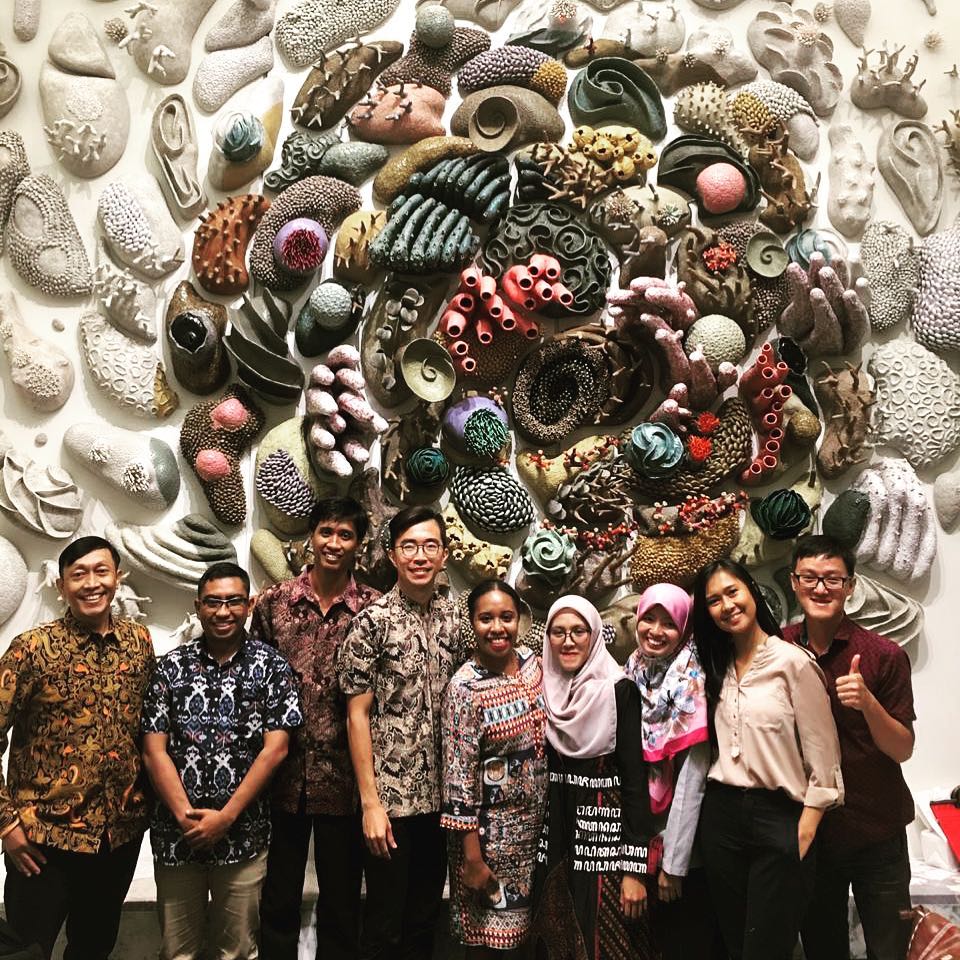 YSEALI Fellows 2019.
ACYPL - Interview
January 17th, 2019, ACYPL announced the semifinalists after shortlisting the whole application forms. The ACYPL Program Officer, Ms. ND, contacted me by email, she invited me on a skype interview and let me pick the interview time from January 28th to January 30th.
The Interview was about the application I have submitted, and I made guesses based on what I remember. Moreover, it was carried out in English, which I am not very confident about. Also, note that there is a time difference between the US and Indonesia, so the interview was carried out during the evening, it was early morning in the US.
To my surprise, the interview went okay, with some minor difficulties on my part (mostly my broken English and nervousness).
ACYPL - Result
On February 16, 2019, ACYPL announced that I and two other Indonesians (Ms. HF and Mr. Ic) had been selected to participate in the program.
US Ambassador, US Embassy Officers, USINDO Representative, and YSEALI Alumni and Fellows.
US Embassy - VISA
Soon after the announcement, we started Visa preparation, but everything went really well. ACYPL was very accommodating, plus they also work with USINDO. Ms. IE from USINDO, Ms. IR and Ms. DV from US Embassy help a lot during the Visa preparation.
The Visa Application Interview was scheduled for March 18th, 2019. ACYPL handled the returning flights from Pontianak to Jakarta and the accommodation. I finally met with Ms. IE, Ms. IR, and Ms. DV in the US Embassy, as well as other YSEALI fellows.
Before the Visa interview, we were gathered for a briefing about what we should prepare. Since we were on the exchange program we applied for J1 Visa.
Surprisingly, the interview was quite simple. We were asked about our identification and mainly our purposes for visiting the US.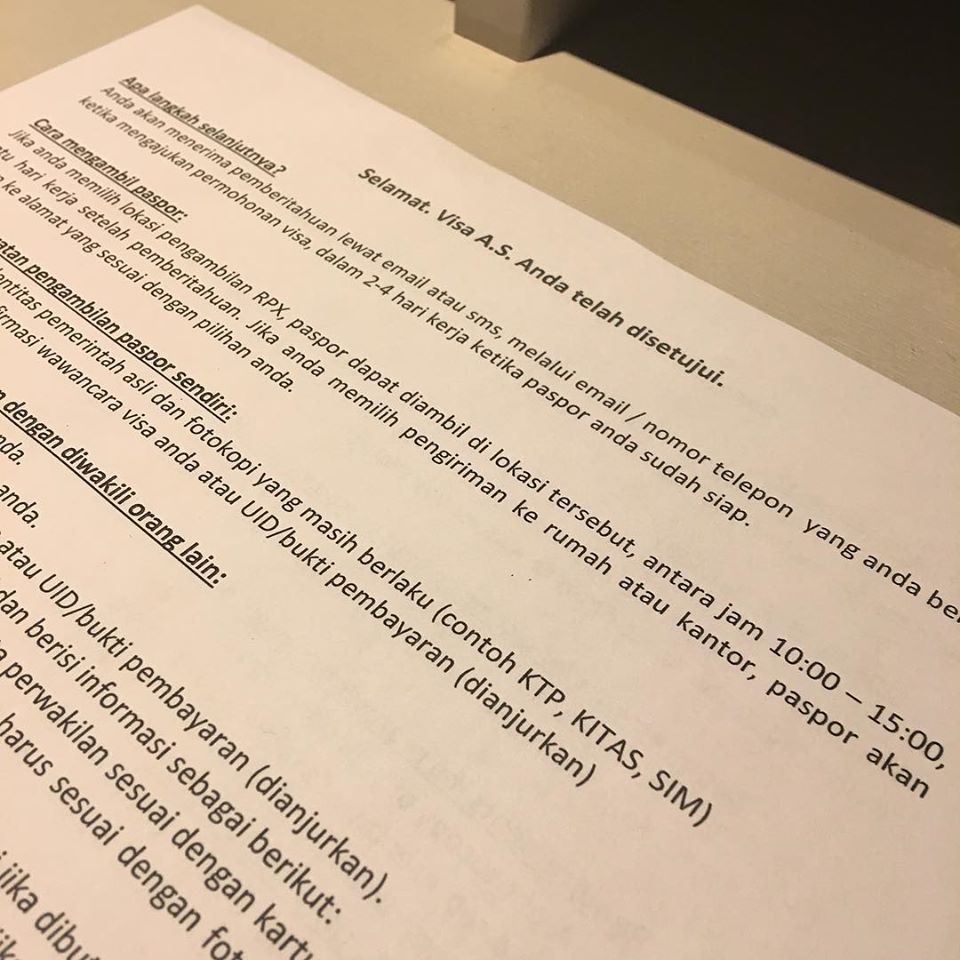 US Visa Approved.
Our Visa approved right after the interview, but the document would need some time to be processed. I asked Ms. HF to help me retrieve the Visa for me since she had a trip to Jakarta and also we will meet during our US departure.
YSEALI Pro Fellows Program
There several YSEALI Pro Fellows Program's themes, such as:
Civic Engagement (Univ of Montana);

Economic Empowerment (American Council);

Governance and Society (ACYPL); and

Sustainable Development and Environment (ICMA).
Read more about the pro fellows program from https://asean.usmission.gov/yseali/yseali-professional-fellows/.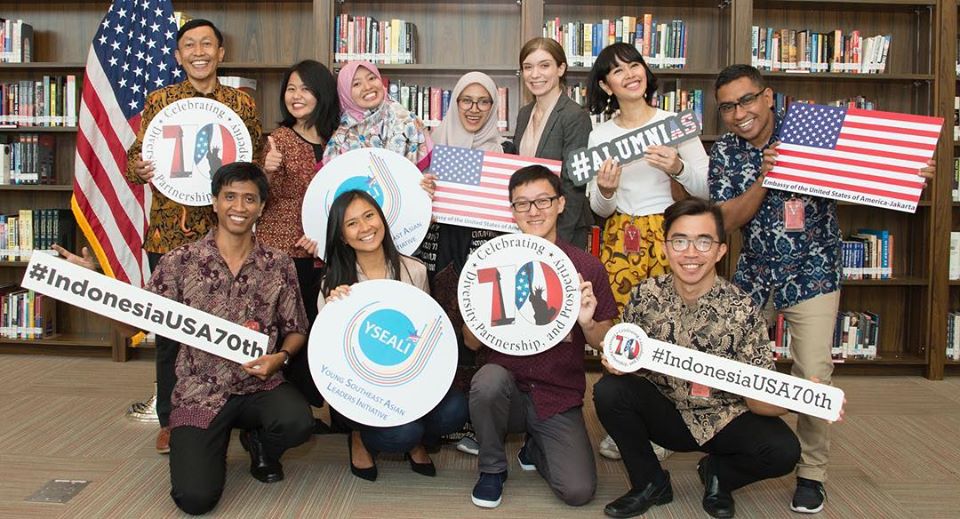 US Embassy Officers, USINDO Representative, and YSEALI Alumni and Fellows.
Previously, I mentioned ACYPL and here I mentioned YSEALI, we can view YSEALI as an area-based program covering whole Southeast Asia Countries, while ACYPL is a more theme-specific program. I and Ms. HF were the Governance and Society fellows, and we are from Southeast Asia County, therefore, you could say we were the ACYPL YSEALI 2019 fellows.
ACYPL Pre Departure Orientation
April 6th,2019, ACYPL Program Officer, Mr. PD, invited us to join a skype meeting with all of the fellows for the pre-departure orientation scheduled for April 11th.
During which Ms. KB and Mr. PD briefly talk about things we should be prepared for, schedules, placement, etc.
I was considered lucky to have a good internet connection thus I had no problem listening to the whole conversation, although I missed some parts due to my bad listening skills.
ACYPL Delegates
There were 24 delegates from all over Southeast Asia. 2 from Brunei, 2 from Cambodia, 3 from Indonesia, 1 from Laos, 3 from Malaysia, 2 from Myanmar, 3 from Philipine, 1 from Timor Leste, 2 from Thailand, 2 from Singapore, and 3 from Vietnam.
ACYPL YSEALI 2019 Departure
Our flight was scheduled for April 19th, 2019. I met with Ms. HF and Mr. Ic at the airport. I had already met with Ms. HF, but this is the first time I met with Mr. Ic. We had not met because his Visa interview was carried out in Surabaya. He turns out to be one of my team, ACYPL Iowa Team check
Des Moines Never Heard It Before.
We had our transit in Dubai, where we met with the Filipino's fellows and Thailand's fellows.
Filipinos and Indonesian fellows.
In short, I was really glad that I had the best support from ACYPL as well as USINDO.
It was my first time in America and a lifetime experience, learning about American politics, government, lifestyle, and culture. In terms of my professional carriers, it really helps me to broaden my views about the bureaucratic world.
ACYPL also provides a followup program where my host visits my country to helps with the project I had in plan. I will also write about this in another post.